Faten Taki, PhD, MS, MA
Faten Taki, PhD, MS, is an Instructor in the Department of Anesthesiology, Weill Cornell Medicine. For her KL2 research, Faten will investigate the feasibility of a cross-sectional study with refugees in New York City to identify epigenetic biomarkers (i.e., DNA methylation) of mental illness. She will also explore the challenges experienced by refugees when participating in molecular research. Refugees will be enrolled from the Weill Cornell Center for Human Rights. Participants will be screened for anxiety, depression, and Post Traumatic Stress Disorder (PTSD) using the validated Refugee Health Screener. Primary outcomes include recruitment and adherence rates. Secondary outcomes include changes in DNA methylation profiles in refugees with, in comparison to those without, mental illness. Qualitative interviews will be administered to 30 participants to evaluate the challenges of conducting epigenetic and microbiota research with this population. Her KL2 project mentors are Miklos Toth, MD, PhD, Professor, Pharmacology, WCM; Karla L. Hanson, PhD, Professor of Practice, Public and Ecosystem Health, Cornell University – Ithaca; and Gunisha Kaur, MD, MA, Assistant Professor, Anesthesiology, WCM.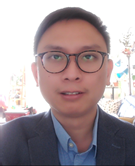 Khanh Pham, MD
Khanh Pham, MD, is an Infectious Diseases Fellow at Weill Cornell Medicine. For his KL2 research, Khanh will explore if Schistosoma mansoni infection and treatment with praziquantel affect a screening test used to detect latent tuberculosis infection (LTBI), which affects approximately 35% of the population in Africa. Called the interferon-gamma release assay (IGRA), this test relies on the ability of the immune system to detect and react to tuberculosis compounds, which indicates if someone has LTBI. He will recruit 144 Tanzanian adults with and without S. mansoni infection for this prospective cohort study. Additionally, he will collect and analyze specific cytokines predicted to be altered by S. mansoni and characterize differences in host gene expression in response to tuberculosis compounds. His KL2 research mentors are Jennifer Downs, MD, PhD, Associate Professor, Infectious Disease, WCM, and David Russell, PhD, Professor, infection Biology, Cornell University, College of Veterinary Medicine.

Erin Mulvey, MD
Erin Mulvey, MD, is Assistant Professor, Department of Biological Science at Weill Cornell Medicine. For her KL2 Research, Erin will evaluate the safety of scalp cooling in patients with lymphoma undergoing treatment with anthracycline-based chemotherapy. The primary objective is to evaluate the safety of a scalp cooling device by carefully surveilling for the development of scalp metastases and measuring response rates. The secondary objectives will include an estimate of the efficacy of the device, measured by the rate and degree of alopecia using a standardized scale, and an evaluation of the impact of scalp cooling on participants' quality of life via serial validated patient-reported outcomes surveys. Her mentors on the KL2 are Peter Martin, MD, Chief of the Lymphoma Program, Hematology/Oncology, WCM; Alison J. Moskowitz, MD, Clinical Director, Lymphoma Service, Memorial Sloan Kettering Cancer Center; and Shoshana Rosenberg, MPH, SCD, Assistant Professor, Epidemiology, WCM.